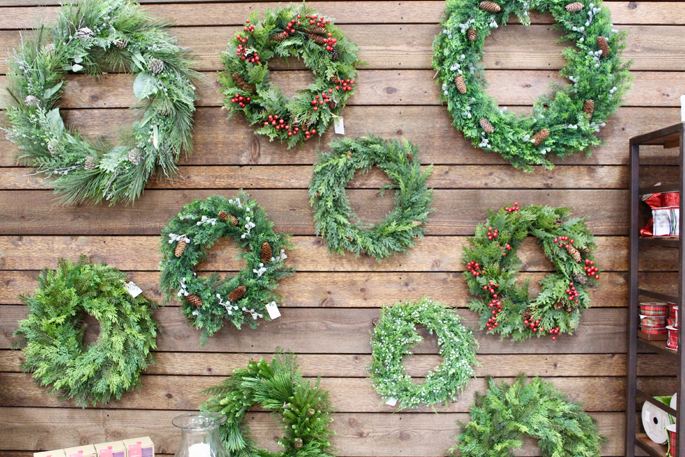 Finding the Perfect Wreath + Ribbon
Whether it's going on your front door, over your mantel or in a niche around your house, no holiday décor is complete without a warm wreath accentuated with festive ribbon. Scale, color, and real vs. faux are all things that should be considered when selecting the perfect wreath and ribbon combo. Here are our tips for creating the most stylish holiday space.
Scale: Determine the space you want the wreath to fill. Is it your front door, above your mantel, hanging in the kitchen window? If it's at your front door, an important aspect to consider is whether you have a storm door? Wreaths made of magnolia tend to be thicker in depth and might not fit between a front door and storm door. You also want to be careful to have the wreath fill up the space without looking crammed or, the opposite, appearing too puny.
Color: A lot of wreaths, both faux and real, have more woven into them other than just greenery. Some have eucalyptus, red berries, pinecones and juniper stems. Think about the surrounding décor; you want something that will complement what you already have.
Ribbon Color: In that same vein, selecting a coordinating ribbon color is equally as important. Think about where the wreath is going and the colors within the wreath. Plaids and velvets are showstoppers!
Ribbon Width: Most wreaths can take about a 2.5" to 4" wide ribbon. Smaller wreaths usually look fuller with a 2" ribbon with five bow loops on either side of the center. For larger wreaths, a wider ribbon with three loops is appropriate scale-wise.
Real vs. Faux: Comes down to personal preference and whether you plan to display it inside or out. One thing to be weary of: the sun! Direct sunlight can dry greenery out quicker than normal. If you're going for a real wreath, think about investing in Wilt Stop which prolongs the lifespan of greenery and wreaths.